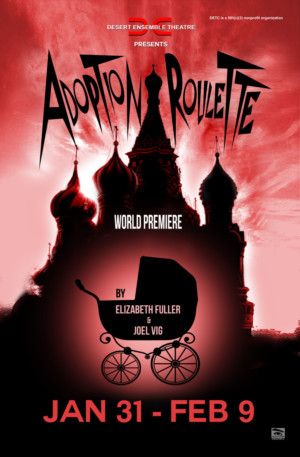 Desert Ensemble Theatre Company (DETC) today announced the company's ninth season.
Artistic Director Jerome Elliott stated: "In reading scripts for 2019­-20, we reaffirmed our commitment to providing Desert audiences an experience of adventure and discovery with a season of inventive and groundbreaking theatre. This process led us to a diverse group of plays including a world premiere and two new works not previously produced in Southern California."
DETC's season gets underway with its signature Season Opening musical revue (October 25-26, 2019), which is a benefit for the company's Theatre Internship Program and Scholarship Fund. Conceived and directed by Jerome Elliott, the Season Nine revue is On the Twenty-First Century, featuring songs from Broadway and beyond from the past 20 years. The cast includes some of the Coachella Valley's most popular musical theater talents: Jaci Davis, Michael Pacas, Leanna Rodgers, and Jacob Samples. The first performance is a Gala event featuring hors d'oeuvres, wine and desserts.
A highlight of the season (January 31­-February 9, 2020) is the World Premiere of Adoption Roulette by Elizabeth Fuller and Joel Vig, based on a true account of Fuller and her husband adopting a little girl from Russia. The couple soon finds themselves trapped in a story that has all the elements of a Hitchcock thriller. At times witty, at times terrifying, the play takes the audience on a ride through the streets of Moscow and into the hinterlands of Siberia as the couple tries to realize their dream. Ms. Fuller and Mr. Vig stated: "Fasten your seatbelts, Palm Springs theatre goers, for a wild ride of an adventure and a story you will never forget."
Elizabeth Fuller* has written ten published books. She is an Op-ed contributor to the New York Times and the playwright of Me and Jezebel, based on a true story when Bette Davis came to dinner and stayed for several days. Joel Vig starred in the original Broadway production of Hairspray with Harvey Fierstein. As a playwright, he is known for Truman Talks Tennessee, a one-man show in which he played Truman Capote near the end of his life discussing his friendship with Tennessee Williams.